It's already June, but yet the weather is still moody (no thanks to global warming!), and that generally makes the people moody too. We, in Belgium, have been experiencing one of the coldest and wettest month of May in 50 years and European countries such as Austria and Czech Republic are experiencing severe flooding! I am thumbing for better weather this week, hopefully the temperature will "soar" to twenty degrees.
Having just finished the Aspiring Bakers Bao Ho-Chiak event (phew!) and having suffered some serious "bao overloading", I have hardly rested for a day but now I need to immerse myself in the curry mood, quickly kickstart my curry event asap and make the inlinkz linky code available on my blog. Why? Because I have already received the first curry recipe submission via email even before I penned this post! Thank you, Kimmy! :)
By the way, if you are not already aware, the

Little Thumbs Up

, is a blog hop event organized by Zoe from Bake For Happy Kids and Doreen from my little favourite D.I.Y. , where an ingredient is selected each month and everyone is welcome to join by using the selected ingredient either in cooking or baking. I am the host for this month, and my selected ingredient is curry powder / curry paste.
The reason why I chose curry powder / curry paste is simply because I like curry, and there are many health benefits associated with curry spices (tumeric, cumin, coriander, ginger, chilli powder), so I would like to see how creative one can be with curry. It's not just the curry dish we are talking about, you can submit recipes of curry rice, curry noodles, laksa, curry buns, curry puffs, samosa, murtabak, roti prata, otak-otak, rendang, basically anything under the sun that uses curry powder or curry paste. And it can be ready-made or home-made powder or paste. If it is home-made, we would appreciate you listing the ingredients and method of preparation of your powder or paste.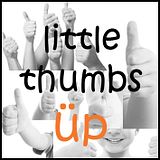 So please join us this month, cook or bake any recipes using curry powder / curry paste as one of the ingredients, post it in your blog within this month, (1 June to 30 June 2013), and link to Little Thumbs Up, by submitting via the inlinkz tool provided at the bottom of this post.
Feel free to display the Little Thumbs Up badge in your post.

Last date of linking will be on 30th June 2013.